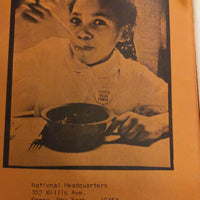 Ideology of The Young Lords Party - Digital Download of their 1971 Booklet, 1st Edition
Description
A digital download of the The Ideology of The Young Lords Party.
Founded in the mid/late 20th century, amid the tensions of the time, The Young Lords began in Chicago, organizing and fighting for the rights of the peoples of Puerto Rico and their families on the mainland of the United States of America. By the early 1970's there were many more chapters throughout the United States, all with an agenda of freedom and social justice. This important booklet gives a brief look into their world with their own words. 
I hope you'll take a look at this important piece of history, found by me, at a flea market in Connecticut and for your eyes and whoever else. This is an important part of African diasporic ephemera.
Available to download for free. Item will be available via email immediately after checkout.
This is not an actual physical copy of the booklet, only a download. 
Shipping Info
Domestic/US Customers: 
We ship via USPS Priority, within 5-10 business days of sale. Custom orders, such as rings and fine jewelry will have a longer lead time.
We will send you an email with your Delivery Confirmation number when we've shipped your order.
We are happy to expedite shipping via FedEx, UPS or USPS. Just contact us for pricing.
International Customers: 
We gladly ship anywhere in the world!
For more information, please go to our policies page
Details/Care
Each item is handmade and slight variations in size, color, and image are inherent in the process are not considered defects.
Every piece of jewelry
Is made with love in the USA and packaged with care.